About Our Company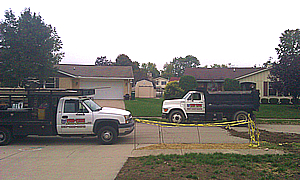 Pro-Tech Custom Concrete is a locally owned and family operated business that has been serving the area for over 23 years!
Growing up, Mark Caskey's father was in the construction business as a builder, so it has been in his blood from the get go.
"One thing my father told me was , if you ever get in the construction business stay away from (concrete) its too hard of work. Well as you can see, I didn't see it that way. I thoroughly love what I do every single day..I have been working for myself for 23 years, since 1990, and pouring concrete for approximately 30 years, and never get tired of it , and I can't wait for tomorrow. We take great pride in every single job we do, and most important, on how the customer feels when the job is finished, that's what keeps us motivated, we strive for excellence. We are fully bonded and insured in every city, township, and county. I look forward to working with you on your next concrete project!"

Mark Caskey, Owner ~ Pro-Tech Custom Concrete
Customer Comments

A letter from a satisfied customer!
Description Of Work:
THEY RESURFACED THE DRIVEWAY, INCREASED EACH SIDE BY A FOOT, FIXED THE APPROACH TO THE DRIVEWAY AND PUT A PAD IN THE BACK YARD.
Customer Comments:
They arrived at the time stated, and were very thorough with their work. Because of the weather, they could not complete the work on the day given, but they informed us concerning this and proceeded on the new date and finished in time for Thanksgiving.
Description Of Work:
Put in new sidewalk around back of house. Replaced front and side sidewalks. Replaced driveway. This company assisted me in putting in underground drains for the roof gutters including a thirty foot pipe under the front side walk that tied into the drain from garage downspout that I ran on out into the front yard. These guys were great and even helped me glue the pvc pipes together.
They are well organized in getting tasks done so there is no wasted time. In addition they worked with me as to my concerns with water drainage between me and my neighbors house resulting in a six inch wide and eight inch deep edge on that drainage side to make sure water would not get under the driveway and undermind the edge. The driveway is normally 4" thick. They even reinforced the edge with rebar. Great job. The concrete I used does not require rebar as it is fiber reinforced but they were concerned about long term wetness at the edge. Great thinking.
They were also considerate about protecting my grass resulting in them taking sledge hammers and manually taking out my front walk instead of using machinery. Very labor intensive. I assumed they would use the Bobcat and I would do final repairs to the yard. As a result all I had to do was plant grass seed after they filled in with very good topsoil where the forms had been.
This company is great.
Description Of Work:
Removed and replaced last 12 feet of driveway and 20 feet of curb.
Member Comments:
Mark and Seth were working in the neighborhood pouring a new patio down the street. I stopped to ask about a quote on our driveway job and Mark immediately came and looked at our job and gave me a quote. He was able to schedule the job for the following Monday. They showed up early and got to work removing the existing broken concrete. The job was done professionally and expertly above my expectations. Really fine finish work on the concrete. They were both very friendly. The jobsite was clean and they respected the neighbors property when needed. Nice guys!


Description Of Work:
CALLED MARK AND SINCE HE LIVED CLOSE BY, HE CAME RIGHT OVER AND GAVE ME AN ESTIMATE FOR A NEW DRIVEWAY, APRON AND NEW GUTTER (CURB). MOST OF THE ESTIMATES THAT I HAD RECEIVED WERE HIGHER AND THEY WERE NOT DOING AS MUCH CONCRETE WORK AS MARK QUOTED ME.
Member Comments:
HE WAS VERY NICE AND HIS CREW WAS VERY GOOD. IT TOOK TWO DAYS, ONE FOR THE DRIVEWAY AND THEN THE SECOND DAY FOR THE APRON AND GUTTER (CURB). THEY ARRIVED EARLY AND WORKED MOST OF THE DAY IN REALLY HOT WEATHER. IT WAS 85 DEGREES AND HIGHER BOTH DAYS BUT THEY STILL STAYED MOST OF THE DAY. HE GOT ALL OF THE PERMITS THAT WERE NEEDED, AND ALL THE REQUIREMENT THAT THE CITY NEEDED WERE MET. THE FACT THAT HE LIVED IN THE NEIGHBORHOOD AND THE PRICE WAS GOOD WAS WHY I WENT WITH PRO-TECH. IF YOU WANT A GOOD JOB DONE FOR A GOOD PRICE THEN YOU NEED TO CALL MARK AT PRO-TECH CUSTOM CONCRETE.