Our Concrete Services
Stamped Concrete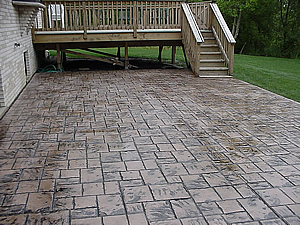 Stamped concrete is concrete that is patterned and/or textured or embossed to resemble brick, slate, flagstone, stone, tile, wood, and various other patterns and textures. Stamped concrete is commonly used for patios, sidewalks, driveways, pool decks, and interior flooring. The ability of stamped concrete to resemble other building materials makes stamped concrete a less expensive and less maintenance alternative to using those other authentic materials such as stone, slate or brick.
There are three procedures used in stamped concrete which separate it from other concrete procedures; the addition of a base color, the addition of an accent color, and stamping a pattern into the concrete. These three procedures provide stamped concrete with a color and shape similar to the natural building material. It also is longer lasting than paved stone, and still resembles the look.


Concrete Driveways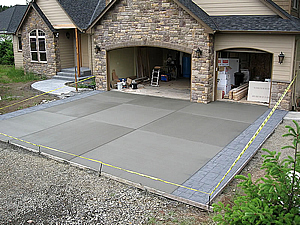 A concrete driveway lends itself to a wide variety of design options that can make a dramatic difference in home landscaping and enhance property value.
Because concrete is so versatile, preferred for durability, appearance, low maintenance, and indicates quality construction from the first glance. A concrete driveway does it all.
Homeowners take great pride in the exterior of their home. The concrete driveway has become an essential part of a landscaping plan that imparts an inviting image. Concrete's wide variety of texture, color, or patterns has elevated the driveway to the status of a landscape design element, meeting today's homeowner's exacting demands.


Concrete Patios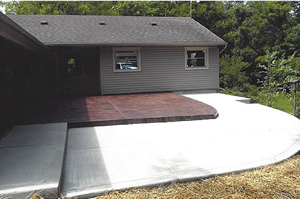 In addition to serving as a gathering zone for lounging and entertaining, concrete patios allow homeowners to seamlessly blend interior and exterior living spaces. They are the perfect decorative flooring surface for outdoor kitchens and living rooms, complete with cozy seating areas, fireplaces and water features. What's more, this outdoor floor offers unlimited design options. When enhanced by stains and integral colors, concrete patios can be color coordinated to match a home's exterior or landscape. They can also be stamped or engraved in patterns that mimic other popular paving materials, such as brick, flagstone, slate and tile.
As an investment, concrete patios typically cost less than patios made of brick or natural stone because they are less labor-intensive to install. The lower price tag combined with the wide array of patterns and colors available make concrete an economical choice for most budgets. Plus, concrete is easily formed into any shape to accommodate your desire.


Concrete Pool Decks, Steps and More!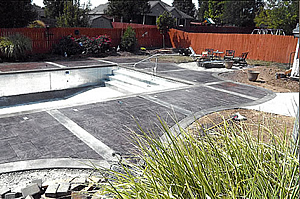 One of the biggest trends in outdoor design today is a decorative concrete pool deck, a colored, textured and inviting area surrounding the pool that does more than provide a safe, slip-resistant deck for sunbathing and barbecuing.
the choices available for designing a truly unique, functional, and affordable pool deck are at your fingertips.
The benefits of concrete are many. It can provide an extremely durable surface, as compared to a wooden deck or even stone. With the new techniques for stamping and applying decorative concrete, any look can be created to meet your desire.